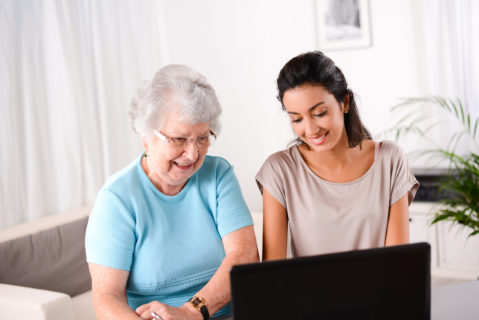 15 Jul

7 Great Blogs for Seniors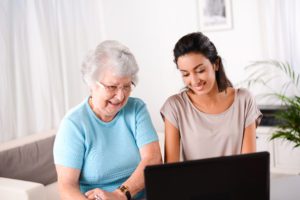 Sheltering-in-Place may be one of the best things seniors can do to protect their physical well-being during the COVID-19 storm, but what about mental and social-emotional needs? 
While nothing can replace human-to-human connections, the internet is an amazing buffer. From learning apps and social media engagement to reading blogs on every subject under the sun, there are multiple ways seniors can take advantage of all the internet has to offer, while simultaneously stimulating mental activity and a sense of connection with others.
Blogs Keep Seniors Connected and Inspired
Today, we'd like to point you in the direction of 7 great blogs for seniors. From those that offer credible, senior-centric information to those that are just plain funny, we've tried to include a little of everything.
1. Senior Planet
We highly recommend making Senior Planet your first stop on the blog train. It is a tech-oriented guide for seniors. According to the Senior Planet folks, their website/blog is designed for seniors who are, "Aging with attitude. Senior Planet harnesses technology to change the way we age. Our courses, programs, and activities help seniors learn new skills, save money, get in shape, and make new friends."
In addition to blogs that help connect, entertain, and support tech-learning seniors, Senior Planet offers more than 60 online programs to help seniors keep learning, exploring, and connecting. They also staff a Monday-Friday, 9-5 hotline (920-666-1959) to answer any and all senior tech questions. 
2. NCOA Healthy Aging
The National Council on Aging (NCOA) is another website with a wealth of information to offer and is worth bookmarking as a go-to resource for virtually any senior issue under the sun. Today, however, we're focusing on their Healthy Living blog. New posts are added every two to three days, and topics span the gamut from the latest research on Alzheimer's treatment options to healthy diet and lifestyle choices. 
The NCOA has a range of subject-specific blogs on their site, including:
3. Time Goes By (What It's Really Like to Grow Old)
This poignant, honest, and entertaining blog is written by Ronni Bennett. Ronni enjoyed a rich career in all aspects of media before a forced retirement in her 60s. That was her first experience with "age-ism" and her resulting fury fueled the writing that turned into Time Goes By Blog. 
Started in 2003, Time Goes By is regularly updated and includes her more recent journey through pancreatic cancer. It covers every aspect of aging, from the aforementioned agism to retirement, media, health, love and sex, culture, technology, and more.
4. ElderChicks
The blog, ElderChicks, is managed by two senior women, Dr. Barbara Fleisher and Dr. Thelma Reese. It is dedicated to women – one of the fastest-growing populations in the US. The two brilliant and entertaining bloggers want women to acknowledge and embrace that, "Senior women living in a world most of our mothers and grandmothers didn't imagine, let alone inhabit." 
"Helping each other master the art of senior life," is the goal, and we have no doubt readers will enjoy each and every post.
5. The GypsyNesters
The GypsyNesters follows the journey of David and Veronica James who, when they became empty-nesters, "chose to look at this next phase of life as a beginning instead of an ending".
In addition to their blog, where they share their travel stories and tips, they also published a book called, "Going Gypsy: One Couple's Adventure from Empty Nest to No Nest at All" in which they tell the tales of traveling over 10,000 miles along the backroads of America!
6. Suddenly Senior
While the blog's title is a fun play on words, inspired by the famous Little Shop of Horrors number, "Suddenly Seymour," Suddenly Senior also sums up the reality. Seniorhood is something that seems to "suddenly" happen to the body, even as the spirit still feels like it's 29 and holding.
The blog is mostly dedicated to humor, nostalgia, senior advocacy, and useful information for seniors and serves as a, "…daily e-zine for everyone over 50 who feels way too young to be old."
7. Our Blog, by With a Little Help
As one of Puget Sound's most trusted senior care agencies, Our Blog serves our clients, their families, and the public-at-large. We post timely, research-based information about all aspects of seniors, the aging process, and the range of caregiving options available to allow seniors to age safely, confidently, and independently in their own homes. 
Use these blogs to launch a little light, connectivity, and education into your senior household. Are you ready for a little support, even if it's just some errand running, shopping and meal support, or transportation, With a Little Help offers everything from wellness packages and support with daily activities to full-time, in-home care.   Contact us to learn more about how we can help.