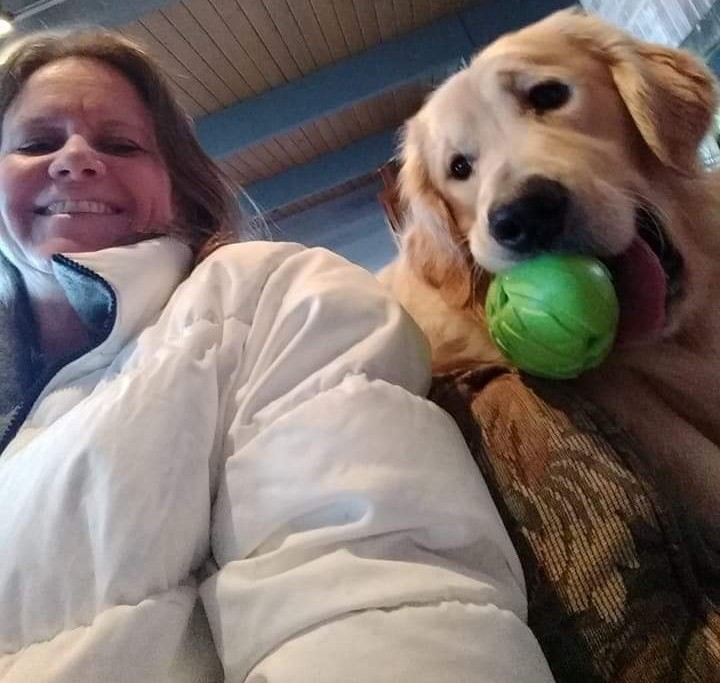 02 Apr

Caregiver Connection: A Connection Between Pets and Caregiving

Thank you so much for taking the time to chat with us today for the Caregiver Connection!
It's nice to hear these stories because I feel like we don't have a lot of connection with each other as caregivers. We're all in our own little reality doing our job, and we don't have many opportunities to interact or get to know each other better.

How long have you been with With A Little Help?
Twelve years, going on my 13th. Quite a while.

How did you get into caregiving?
Well, it was my parents, actually. They were getting older and needed care, so I ended up moving in with them. I was really burnt out in my career in a retail position, and I just decided to quit it. In the process of helping my parents, I did some volunteering where I saw a flyer that said, "With A Little Help Needing Caregivers." So, I applied, and the rest is history.

So you wanted to make a change and make a difference, and here you are.
Yes, I've always wanted to find more fulfilling work. I went from computer programming years ago, to a retail service role, and now caregiving. So it's been really interesting for me.

You shared an interesting story with one of your team members about a client and their dog. Can you tell us a bit about that?
Most of my clients have animals. I always request that my clients have them as it makes things a bit lighter. I cared for a client who had a stroke, and I saw him a couple of days a week for about three years. I got really close to him and his family, and he had a beautiful golden retriever named Charlie, who would go on walks with us.

Charlie passed away, and the family got a new golden retriever puppy named Oliver. I cared for both the client and Oliver, which was a bit of a handful, but I loved it. Right before COVID happened, the client had to move into an adult family home, and that was the end of my care for them, unfortunately. I really miss them both. The client passed away this year.

I just got a new client, and when I looked up the name, I noticed some other familiar names in the care plan. It turns out that he is my late client's step-father-in-law. My late client's wife, who is still taking care of Oliver, takes Oliver over to his house every day for a visit. The first time I went to meet the new client, my late client's wife and Oliver were there, and Oliver went crazy when I saw him. I hadn't seen either of them in over a year. So that was exciting and wonderful. He was thrilled, and I'm thrilled because now I get to see Oliver every time I go over there.

It's incredible that a year went by, and Oliver just recognized you.
Oh, yeah, he knew me. I mean, I grew up with him, you know, and I was amazed at how mature he was. He was not a little wild puppy anymore. He grew up.

How old is Oliver now?
I think he's 4, if I remember right. He was a tiny pup when I first started, and now he's a full-grown golden retriever. In fact, I have pictures of all my clients' dogs and collages that I've made. I have so many great experiences with my clients and their pets.

It sounds like you have always had a love of animals.
I always had dogs when I was little. When I got a little older, I became very much a cat person. I have a cat now and one lady I cared for recently had four cats.

What sorts of things do you help the client with, in general?
One of my clients is recovering from a fall where he hurt his back. He needs to be very careful and use a walker, and he's starting some physical therapy. So we just started going for walks down the street. He's been in the house for the last year, going nowhere, so it's good for him to get out and recover. I help him and his wife as a couple with housecleaning; I get him showers and food and help him get to bed, the basics.

Do you know how old your oldest client is?
In the past, I've cared for someone who was 102 and someone who was 106. I only cared for them once, but people are living longer. It's evident. I have a lot of clients who are in their 90s now.

Well, it's no doubt in part thanks to you. You're giving them a better quality of life. You have this really jovial spirit and always laughing and smiling, and I'm sure it warms people's hearts.
I think so, I hope so, I do a lot of self-work. I just finished a yoga class on Zoom before this interview.

Whether it's yoga or meditation or that sort of thing, we hear a lot about caregivers and the importance of self-care.
Yes, I'm a daily meditator. I do the Feldenkrais method, all kinds of stuff. It's my main focus, and it has really helped me through my life.

Is yoga something you've trained in?
I did take the Feldenkrais training for four years, and that was one thing I could do through this job because they gave me the time off. So that was wonderful. I couldn't have done that with another job. So now I'm getting into that more, and I'm teaching some classes on Zoom, but it's hard to juggle it all.

It sounds like you work for a supportive team that encourages you and wants to help.
Yes, I have a very flexible schedule, and I know that I can always communicate my needs with the team.  When I first started at With A Little Help, it was just in a little house, and they have always made me feel right at home.

So is there anything else you'd like to share about caregiving?
Caregiving has been more difficult since COVID. People are more challenged, and I've worked with more people in hospice than ever before.

Then there's also the topic of death with dignity, which I'm all for. Some of my clients are saying, "Why aren't I dying? Why am I just lingering?" And it's sad to see. They're at the end, and they don't understand or have anything really to live for anymore. It's a topic that I think needs to be discussed more.

My mother had dementia, so I had to go through that, and it was absolutely the most horrible experience. I learned a lot about it. It's a very slow way to go, and it's something that she never wanted to endure. She had all the paperwork done, but it doesn't matter when you have dementia, and you can't make decisions or tell people what you want. So, it becomes very sad.

I am glad and grateful to be a With a Little Help caregiver. It's good work. I meet some amazing people, and I love getting to know clients and their families and hearing all their interesting stories.

With A Little Help is so is so grateful to Linda for her commitment to the team and our clients. We are so lucky to have her and appreciate her willingness to share her story with us.

****

If you or someone you know could benefit from the services offered by With A Little Help, contact us via phone at 206.352.7399, via email at care@withalittlehelp.com or fill our Contact Form, and a member of our team will be in touch.