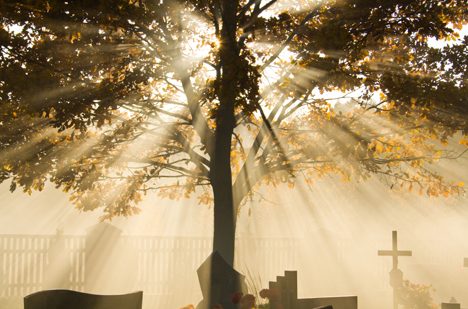 24 May

Celebrating Life at the Time of Death

Recently a dear friend lost his wife to complications from Alzheimer's disease. Surviving is her husband (my friend), a sister, three adult children each with a spouse, and seven grandchildren. My friend shared with his neighbors and friends that, in accordance with his wife's wishes, the family would not be having a funeral service.   The reactions in his small town on the western slope of Colorado, varied:  understanding; curious and questioning; surprised; disappointed; appalled.

For many Judeo-Christians in our culture, having a funeral is a no-brainer. A mass or service, during which we honor and say goodbye to the loved one seems essential to closing the chapter of a life.  In that way of thinking, funerals, like weddings or baptisms, are a critical, ceremonial, communal time that helps family and friends move on to the next stage of life. The heartbreaking song and Vevo video "Just a Dream" by Carrie Underwood demonstrates beautifully the way the same ritual service is performed for baptisms, weddings, and funerals. This ritual can provide comfort and grounding at a very difficult time.


But Washington ranks among the list of the least-churched states. Many in the Seattle area not only do not feel the need for a traditional funeral, especially a church-based funeral, they feel the need *not* to have one.  Some may never have attended church at all. Some might be estranged from the church. Some may be agnostic or atheist. As we observe this shift away from traditional funerals, we note that some of these people would still like some way of providing closure and an opportunity to celebrate a life.
There are several ways that we can acknowledge the passing of a life, beyond a traditional funeral.  Here are some options.
Celebration of Life (Party)
At least two area funeral service providers are placing more emphasis on Celebrations of Life. With a different focus than a traditional church-based funeral, a Celebration of Life can be just as it sounds – a joyous celebration where family and friends remember and honor the deceased in a party-like atmosphere.
At Cascade Memorial, the emphasis is on high quality and customer service, balanced with simplicity.   Sarah Geiger, Managing Director at Cascade Memorial Director says "the adult children and spouses follow [their loved ones] instructions, but after all, there is a life lived, and we encourage people to celebrate that life in some way."  Cascade Memorial offers its fairly-priced celebration suite and simple catering, or the family may provide the food. "It can be very simple, have [your mom's] favorite dessert.  You don't have to have prayers, you don't have to have blessings. Our culture relates funerals to church but it doesn't have to be that way."
Sarah says they have had to change our language, from "Funeral Director" to "Arrangement Director", because people don't want to have funerals.  She says those who use her cremation or burial services are almost always having a Celebration of Life party on their own. "Auntie rents the club, someone is going to Costco and the other to Fred Meyer and Sam's Club."  This does make the celebration more meaningful but is a lot more work.  Cascade Memorial has fairly-priced suites and catering available to offer families who want a celebration but not necessarily a traditional funeral.
Pete Cameron at Purdy and Walters Floral Hills in Lynnwood (a Dignity Memorial property) tells us about examples of Celebrations of Life celebrated at Dignity Memorial, which has approximately 20 funeral homes and cemeteries in the greater Seattle area. Here is what Pete says:  "Many of our families don't want a church service, yet they don't know what to do instead, so we provide some support in that area. Life Celebrants are trained by SCI, and that is all they do, they go to our different funeral homes and help the families plan the services."  Currently, David Bailey is the Celebrant in the Seattle SCI market. David meets with families once or twice, sometimes even three or four times, getting to know the deceased person and the family.  Pete says it is difficult to assess the cost of a Celebration of Life planned by one of their Celebrants because there is so much variance, but the fee for the celebrant's services is around $400.
Pete described a Celebration of Life they recently hosted at Floral Hills.   "The deceased was a long time hunter.  His son wanted to bring in all of his dad's hunting and fishing gear, a deer head, and a lot more. We did a huge panorama and the family just loved it."


Video of Life
Another option that is increasingly popular is a live video honoring a person's life.  Here's an idea . . . create a video of someone's life, then gather people together for "dinner and a movie".  Hollywood Forever (where, coincidentally, Chris Covert will be buried) helps families to create a video story of their loved one.
"At Hollywood Forever, we believe it's time cemeteries offered more than a name and date etched in stone. That is why we have produced thousands of LifeStories™, made from video and film clips, photos, written and spoken words. Our LifeStories™ specialists work with each family to gather their most cherished memories and assemble a LifeStories™ that captures the essence of a personality and the story of one's life."
At Hollywood Forever, these LifeStories are available at kiosks and in the LifeStory theater at Hollywood Forever and through their website.
Scattering Of Ashes Ritual
Scattering of ashes can be comforting for some. Scattering of ashes allows families a final period at the end of the sentence without the trappings of a religious service.
Did you know you can scatter the ashes on a regular ferry run? Pre-arranged with the WSDOT, the ferry will stop partway into their crossing. It will be announced to the passengers that a scattering is occurring. A short wait is allowed while the family and friends of the deceased say their final goodbyes. What WA state resident hasn't been on a number of ferry rides. This may feel more comfortable to them. More familiar.
Home Vigil
What about having a "home vigil"? This can be a wonderful option for especially people who have had their loved ones home for weeks or months while they are in Hospice. It offers so many things that are missing when we don't have a funeral at all. Family and friends can stop by over the course of a weekend. Sometimes these families will create a simple wooden box and then decorate it during the vigil. A table with candles and art supplies provides people with an opportunity to. It is perfectly safe and sanitary to have a person's body remain in the home (or another place of death), using dry ice underneath the placement and other methods.
A Sacred Moment funeral home in south Everett specializes in home vigils.   Owner and Funeral Director Char Barrett says it's a small but growing percentage of their business.
Planning Ahead
When you are afforded the luxury of pre-planning for time-of-death arrangements, consider that the purpose of the funeral, Celebration of Life, scattering of ashes, or Home Vigil is not only to honor the deceased person but also to aid and support the living with the grief and mourning process.   Pete Cameron says "the key is to have it be meaningful for you."   We hope our article will provide some food for thought.
Share Your Ideas
If you are celebrating the life of a loved one in a positive and unique way, we'd love to hear from you.  Share your story with us via email to info@withalittlehelp.com.