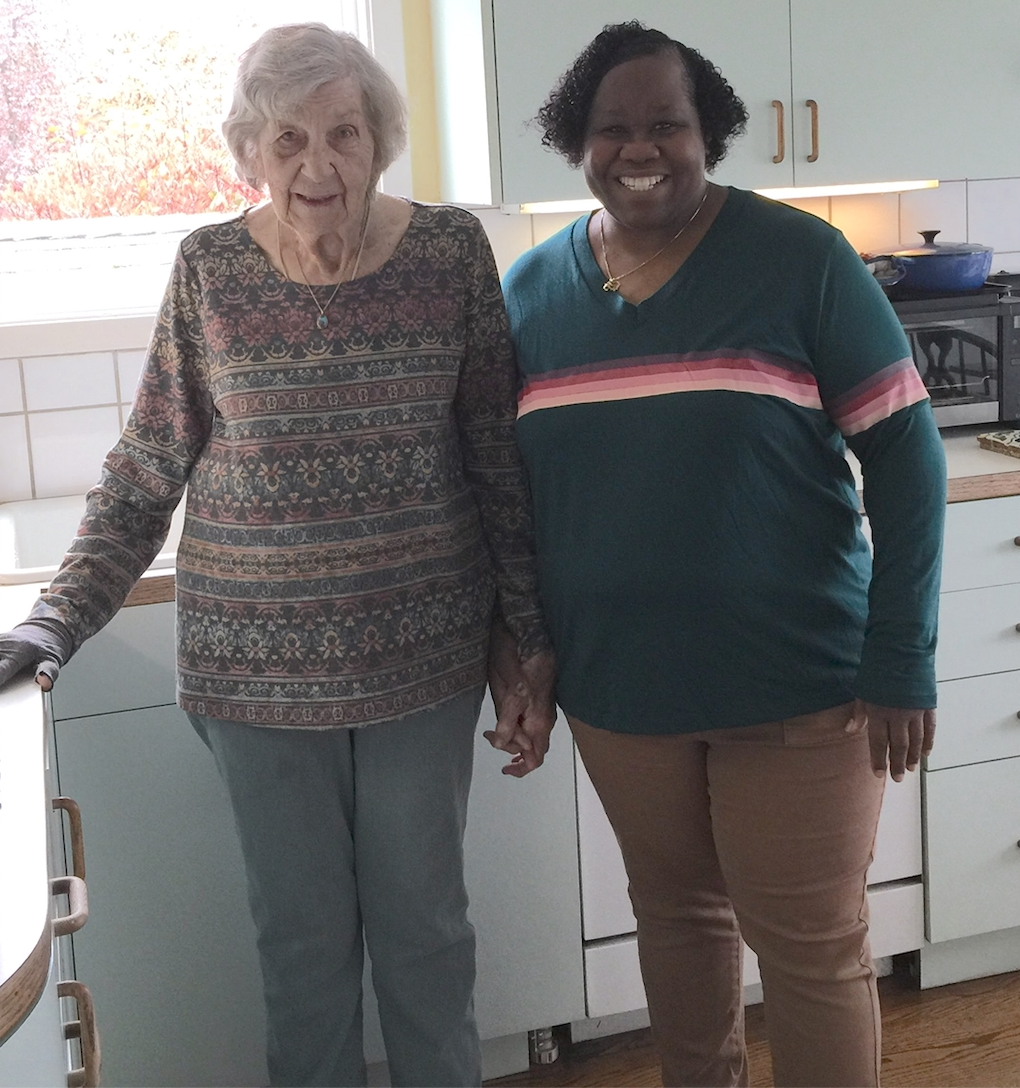 03 Sep

Caregiver Connection – Darsheen & Gloria

When asked what called her to become a caregiver, without hesitation Darsheen said, "It's something that I have been doing since I was a little girl. It's just something that is instilled in me". From a very young age, Darsheen was taught to care for, respect, and help her elders. She recalls being around 7 or 8 years old when she befriended an elderly woman in her neighborhood who became like a grandmother to her. Then tragedy struck and after that, the woman didn't know who Darsheen was and that affected her greatly. She did everything that she could to help her because that's what she knows in her heart.

Darsheen started working as a caregiver for With A Little Help in July of 2019, caring for a woman named Gloria, who she lovingly calls, "My Gloria." In speaking with both of them, it is clear that they have a very special connection. "Gloria and I just naturally bonded, and I have learned so much just sitting in the midst of her. Even though our beliefs are different, we have the utmost respect for each other," said Darsheen. They have a lot of things in common, such as writing and reading blogs. On multiple occasions, Darsheen would show up at Gloria's door and they would both be wearing the same color of clothing and Gloria would always comment about it saying that "it's like they are on the same wavelength." They would sit and have conversations with morning coffee and afternoon tea. They would nurse the plants in Gloria's yard and as Gloria said, they "cheered on every little sprout." At 94 years young, Gloria still exercises in her yard with weights and eats healthy. Darsheen recalled a time when she watched her perform knee bends "like they were nothing!"

Gloria says, "I'm not as 94 as people might think." After speaking with her, we believe it.

Darsheen said that when they met, they both welcomed and received the other into their lives. For Darsheen, it felt good that she could give Gloria peace of mind and that she could interact with her in a way that would give her peace in her own home. It is her goal to provide a relaxed and peaceful environment. Sometimes that would mean doing something like preparing an extra sandwich or meal for her so that when she got hungry later, she wouldn't have to worry about it. There are days when being a caregiver can be tough and she said she will think to herself, "I don't know if I can do it." But then she reassures herself by saying, "Yes I can!" She said it's not in her to be any other way – she just can't walk away from helping others.

When we asked Gloria if she could tell us a little about her relationship with Darsheen, she immediately said, "She is a woman of tremendous accomplishment and bravery. She's an intuitive and remarkable woman." Some of the words that Gloria used to describe Darsheen were calm, reassuring, strong, and helpful. Gloria knows that she will always be safe in Darsheen's confident care.

Darsheen said that she doesn't know anyone who would not leave a meeting with Gloria feeling blessed. Recently, Darsheen was interviewed by the Seattle Times for an article where she talks about the struggles that she has endured having to take a leave of absence from her job due to COVID-19, her own health issues, being a single mom (and now, dealing with online school for her kids) all while making regular visits to her mom who is battling cancer. When Gloria saw the article, she cut the picture out of the paper and has been showing it to everyone she knows. She's extremely proud of Darsheen and said, "Anything to do with Darsheen, cheers my heart."

Darsheen has 4 kids and she said that they have adopted the same values that were instilled in her from a young age. Her eldest daughter has followed in her mom's footsteps and is a Certified Nursing Assistant (CNA) and it's clear by the way Darsheen talks about her that she is a very proud mom.

Sometimes these special connections just can't be explained but they sometimes happen with the perfect caretaking match. Both of these amazing women miss each other terribly and can't wait until they can be reunited again. And we hope that day arrives soon.

Want to be the first to hear about the next "Caregiver Connection"?  Be sure to sign up for our newsletter today!

If you or someone you know could use the services offered by With A Little Help, contact us via phone at 206.352.7399, via email at care@withalittlehelp.com or fill our Contact Form and a member of our team will be in touch.